This Special Report Shows ANY Person Who Is In Their 40's, 50's or 60's, That Is "TROUBLED" By Chronic Daily KNEE PAIN, How To Get Active AND Rediscover Pain Free Exercise Again Within Days (…All WITHOUT Taking Medication, The Need For Surgery OR Any Painful Injections)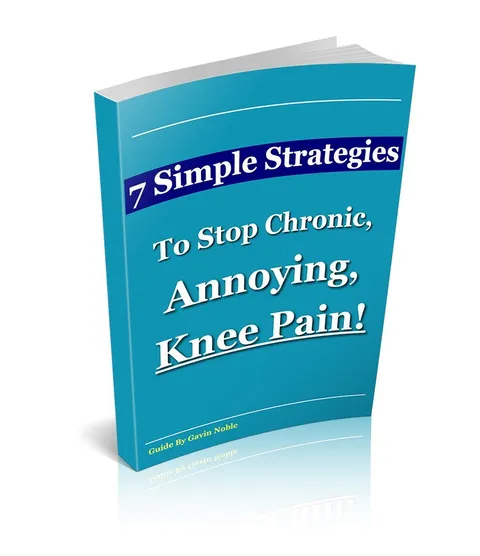 It Will Show Anyone, Who Wants To Keep Out Of Their GP's Office AND has hopes of Staying Healthy And Active For Years To Come, A Lot Of The Best Ways I Know How To End Knee Pain.
Whether you've come looking for a better way to end nagging or even SEVERE knee pain, or you're just looking for NEW ways to exercise and keep active that will NOT make your knee problems any worse, then this could be the most important message you will read.
Knee pain often starts as a tolerable but nagging, tooth ache like discomfort. But if left untreated, masked with painkillers, or a knee support is worn for ANY significant length of time, it's not uncommon for knee pain to grow steadily WORSE over months and years until WALKING itself becomes difficult and distressing.
In the early stages, painkillers and anti-inflammatories given out by the GP will offer some relief. But short-term fixes should NOT be confused with getting to the root cause of your complaint and stopping or slowing down whatever has gone wrong in the first place – and doing it NATURALLY.
What most people don't know, and many GP's are included in this, is that there ARE things that can be done that will let you exercise and keep active, and that CAN be achieved WITHOUT any knee pain, swelling or stiffness, or fear of making things worse, at all. Painkillers, rest and knee supports are NOT the only option if you're wanting to stop the daily torment of living with knee pain. Surgery or injections DON'T have to be either.
I know a much healthier way than that…
Before I go on to show you how I can help, let me first make it abundantly clear I'm NOT like any of the other Physios out there and that includes the ones in the NHS. I'd like to distance myself from them immediately and you should know upfront, that mine is NOTHING like the advice given out by them or any GP – quite simply because I'm a Specialist Private Physio and have been working with and HELPING people in their 40's, 50's and 60's, to recover from knee pain fast, on a DAILY basis, for more than 15 years.
Rest assured…Everything I do IS personalised, specific AND specialist. That's the kind of care that works BEST and what most people are hoping to find when they come to this page.
I have plenty of TIME for you too. Mine is NOT like any other surgery where you may feel rushed in and out, never having chance to ask questions or leave feeling as though you weren't fully understood. Your health and concerns are important to me and I do want to hear all about them.
My goal is to help you recover from knee pain and get active again QUICKLY and NATURALLY.
Knee pain can be VERY life limiting, not to mention frustrating and the longer it is left, the harder and more time it takes to resolve. And No!…It's NOT your age and you DON'T just have to accept it like some doctor's seem to think you do.
Knee troubles rarely get any better with rest. Admittedly, sometimes pain may drop, but that doesn't mean it's not going to come back as soon as you take a long walk or try to get back to being as active as you were before you rested.
I've seen people who have rested for weeks in the hope that pain will go for good, only to find it even WORSE when they start back up again (and the swelling last twice as long). THEY should have told you… doing the WRONG kind of exercise is harmful, because even doing just one kind of exercise which you may think is helping, could so easily make things WORSE, in the end.
What should happen is that the people planning on taking these painkillers are given CLEAR and EXPRESS instructions to go and source a real solution such as Physio, ASAP. Relying upon medication will do nothing to fix whatever it is that caused your knee troubles in the first place.
It's not nice to say, but so many people are suffering with constant "on-off" knee pain that they SHOULDN'T be, and it's all because someone didn't get to the bottom of the problem at the first signs of it. Not their fault of course, they weren't to know any better. Painkillers, rest and doing generic exercises are NOT the answer. Not if you want to be active and feel healthy again, any time soon. And that's why I'd like to offer you my HELP and expertise immediately, UPFRONT and without ANY cost or payment needed.
Before I show you HOW I can help, please look at this first:
We don't claim to help EVERYONE and for obvious reasons I can't just give away all of my best advice to anyone. But if you're aged 45-67+ and can say "YES" to any of the following, then you are right to be looking for Specialist Knee advice and I can confirm that you're looking in the right place for it:
You've recently noticed a dull, "tooth pain" like ache in your knee that has been there for longer than 9 days and shows no signs of improving on its own
You're experiencing severe pain or swelling during, or not long after taking a simple walk with friends (Note : For your own good, please seek advice ASAP)
You've been told or have a sneaky suspicion that what you have is caused by Arthritis, joint wear and tear or degeneration
You're struggling to walk or run for any significant length of time without feeling the effects of knee pain, a dull ache or swelling
You don't fancy the "painkillers and rest" option advised by the GP, nor do you like the generic exercises so often given out by the NHS Physios
You value the enjoyment you get from your health too highly to risk suffering any long term complications, and so you want to seek the best advice possible, straight away
You are hoping to AVOID knee surgery for as long as possible
You've no idea what's happened or why and you're just concerned, maybe even worried, that it isn't going to go away any time soon, and you'd just really like to know EXACTLY what has happened, and how long it will likely take to solve, and what REALLY can be done to sort it.
Great news – if you can say "YES" to any of those, then I am going to be able to help you like you hope.

I have a proven solution that works at easing and ending knee troubles fast. And whether you're suffering severely, or it's at the very beginning and is currently "annoying and nagging", it is going to work for you and will let you get active and let you find more ENJOYMENT in your life, faster and easier than any other way.
It's going to let you walk further for longer and exercise with renewed hope that you can still DO IT and "NO"… what I offer doesn't involve ANY painkillers or you having to do lots of those unnecessary and very generic exercises.
Specialist "Hands-on" Physiotherapy involves me and my team working on you in person, and by hand, using all of our BEST techniques to bring about a FAST end to the suffering and concerns you are currently experiencing. Deep Therapeutic Massage will help ease pain naturally, we'll need to look at other joints such as your hips, ankles and lower back and when we correct them all and add in the BEST exercises, you are going to see a POSITIVE difference made to your life, fast. If it happens in days, it will be of NO surprise to me.
And don't worry – it's really easy and it's simple to do.
We do this on a daily basis to HELP people like you and have been doing so for more than 15 years. And if you're aged 45+, I can absolutely GUARANTEE that when I combine all of this, you ARE going to feel a BIG difference and your pain will DROP quickly and your enjoyment of life and everything in it, AND ability to exercise, will come back soon.
And, if you are wanting to find the BEST exercises – the ones specific to YOU and your lifestyle needs, that WILL make a difference in how fast you get better and WHEN you can get active again, I'll give you all of them too – maybe even the very first time that we meet. Doing the secret exercise routines, I know of is going to be the BEST way for you to avoid suffering again, any time soon.
More: doing this will also REDUCE the risk of early arthritis and you becoming a lifelong victim of knee pain, at the same time. If that sounds like something you'd be interested in, then start by making a simple and no hassle or obligation to proceed, enquiry about cost and soonest availability.
What People Are Saying About Gav Noble Physiotherapy
"Gav Noble is not only good but he is brilliant, for almost 2 years i have been having knee pains, went for X rays, blood tests ,MRI scan nothing helped, my GP couldnt help me any further I was prescribed all sorts of pain relief, my mobility got worse as the pain persisted, 3 times in a week I visited A & E at the Royal hospital, and got no help. I contacted Gav Noble on a Sunday afternoon , the next day I went to see him after a few twisting of my legs and asking questions he was able to tell me what was wrong, he worked on me and gave me exercises to do. 3 days after I saw him and I am 99% recovered , no more pain at all. People, Gav Noble is like a magician. I wouldn't hesitate to recommend him. He is friendly and always there to help. Good job Mr Noble."
Aaron Muguti
I recently had 3 sessions with Chris and was amazed at how quickly my body reacted.
I have recovered and am pain free and still doing the advised exercises.
I spent last week on a canal boat - operating the locks and gates and tying up the boat-which I thought would be challenging and perhaps knock me back.
Thankfully I am still pain free with no issues!
I hope to get to your pilate classes whenever I have 6 free consecutive weeks and you will be the first port of call if I have any further issues.
Thanks again
Joanne, Lisburn
Brilliant!
Highly recommend them. Saw Chris and I literally went from barely being able to walk properly, to walking, jogging and training pain free within 8 weeks.
Can't thank him enough!
Stuarty Macca, Lisburn
Let me help you with your knee pain, book an appointment now with Gavin Noble, Specialist Physiotherapist.
Call 028 9266 6959