Focus on ACL Reconstructions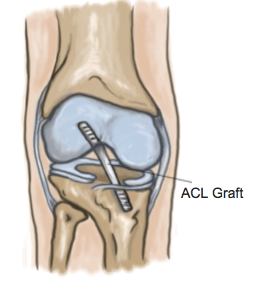 A  common injury of the knee is a tearing of the ACL (Anterior Cruciate Ligament). This ligament is very important for stability of the knee and often needs to be repaired surgically. The primary function of the ACL is to keep the bottom surface of the knee joint from sliding forwards during movement. An unrepaired knee may feel unstable or give way suddenly.
Not all ACL injuries require surgery and some may heal well with proper rehabilitation, however for those who do need surgery, there is a significant rehabilitation period afterwards. 
What does the surgery consist of?
Every surgeon will have a slightly different technique for surgery. The most common approach is the arthroscopic approach, which uses a small camera and allows the surgeon to make only small incisions into the knee. They will then replace the torn ligament with either a graft from a tendon or ligament at another part of the body or using a synthetic graft.
How long does rehabilitation take?
Full rehabilitation following surgery can take up to nine months and rehabilitation is divided into different stages. As all surgeons will have different protocols for their approaches to surgery, time frames will vary for everyone.  
Initially, after surgery, the graft will be quite weak while a new blood supply is being established. It can take up to 12 weeks before the graft is at its strongest point and evidence shows that it may never have the strength of the original ligament. 
In the early stages, rehabilitation will be focused on restoring movement to the joint and strengthening the muscles around the knee without putting any undue stress on the graft. 
As the graft begins to heal and strengthen, rehabilitation can progress to include stability and control exercises and gradually build up to a complex program that prepares the knee for a full return to sport.
The path to full rehabilitation from a knee reconstruction can be a long and bumpy one, however, there are high success rates with this surgery, particularly when followed up with full physiotherapy rehabilitation.
The information in this newsletter is not a replacement for proper medical advice. Always see a medical professional for assessment of your individual condition. 
For more information or assistance please call the clinic on
028 92666959
or email at
info@gavnoble.com
Our physiotherapists are happy to discuss your condition with you and share their
tips
to help you stay pain-free.